Vinyl Fence Gallery 2023 You Deserve this, Book your Fence Today!
We are one of Saskatchewan's largest installers of white privacy vinyl fencing. We will install anywhere in Saskatchewan, installers based in Regina, Saskatoon & Weyburn. We will also ship fencing product Canada wide. Contact us now for all your fence needs.
GET OFF THE FENCE,Book now-your project is a click away!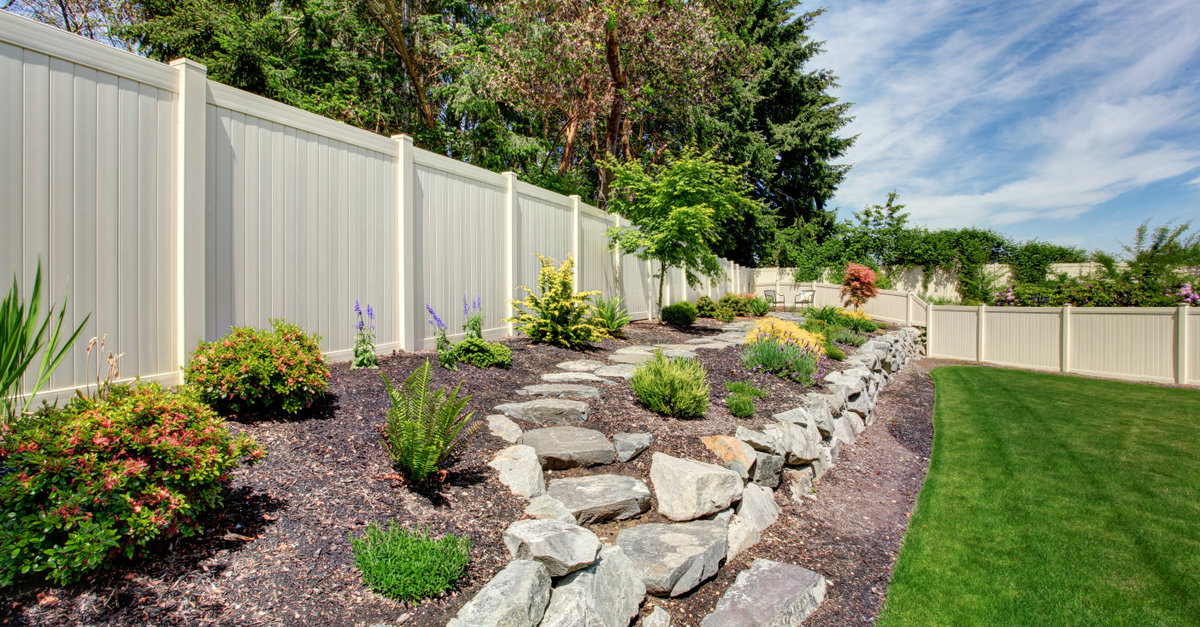 The sky is the limit, when it comes to Vinyl PVC fences. With the amount of colors and designs to choose from, your fence dreams can come true in no time at all. They not only come in a variety of colors and types, they provide complete and total privacy, or simply provide accenting.
Vinyl is an easy-care alternative to other fence materials. A vinyl fence won't warp, rot, split or blister like a wood fence, or rust, chip, peel or corrode like aluminum. Vinyl never needs sanding, staining or painting. Surface dirt and debris wash away easily with a periodic spraying from a garden hose.
Why Trust us & Book with us now for your install. All of our vinyl fences are standard with the leading compounds in the extrusion industry, to ensure your fence stands the test of time, all industry leading vinyl fence products are loaded with impact modifiers, TIO2 inhibitors, UV chemicals to stop yellowing and deterioration from the sun, processed using both mono extrusion & co extrusion processes in all materials to be more durrable in tough Canadian conditions.
Vinyl may actually be the most dog-friendly fence material available. Vinyl fencing can be made from solid panels that dogs cannot climb. Since the material is not painted or stained, you do not have to worry about your dog ingesting harmful compounds if he or she decides to chew the fence. Vinyl also has a smooth texture, so your dog won't cause or irritate hot spots when he or she rubs against the fence as they might with a chain link or wood fence.
Vinyl Is Fire-Safe. Some homeowners worry about their fences getting struck by lightning or a fire starting that will then spread to their home. This is not a concern with vinyl fencing. Vinyl does not easily ignite, and its burning point is around 900 degrees F. This means you can safely use vinyl fencing around your grilling area or campfire area.
Derkson Fencing 2023 Vinyl fence Line up is Huge. We have over 300 vinyl fence designs and combinations to look at for your property. From the classic white privacy to complex colour combinations & multi profile sections. Derkson Fencing is your #1 vinyl source 10 years running.
SIMTEK a Powerful addition to any yard, Supperior Stone looking fence, you have found it
Are you looking for DIY? Just need the materials- We GOT YOU check out our QUICK SHIP program.
Vinyl Fence has an amazing lifetime with 40 to 50 year life span. Premium vendors offer warranties from 10 to 35 years, you cannot go wrong. Preminum vinyl fencing requires low to no maintenance, wash off as needed it's that simple. Our line up has 5 standard colours and 12 preminum colours.
Vinyl Was Invented in the 1800s,although vinyl fencing has only been popular for a few decades, vinyl has been around for more than 100 years. It was invented in 1872 by a German chemist named Eugene Baumann. The vinyl-making process was perfected in the 1920s, resulting in a more flexible, useful material.
Want to leatn more about Vinyl visit our blog.
Learn more about our vendors in our Blog & Vendor section
We work closely with the industry's best & leading distributors & manufacturers to bring you the assurance you need in your investment, afterall you're buying a fence that will last a lifetime, you want the best product, Period!
#vinylfence #vinylfences #vinylfencedepot #vinylfencephotos #vinylfencecompany #vinylfencefactory #vinylfencecontractor #vinylfenceinstallation #vinylfencemanufacturer #fencingcontractor #fencingcontractor #fencingcontractors #fencing #fencingposts #fencingcompany #fencingsolutions #contractor #contractorservices #generalcontractor #fencingcontractor #fencingcontractors #fencingcompanies #saskatchewan #saskatchewanmade #trades #fencingtradeshows