Make a Bold Statement with New Vinyl 2 Tone Fence So many options it's basically limitless, mix and match from over 30 Plus colours & over 200 types WOW!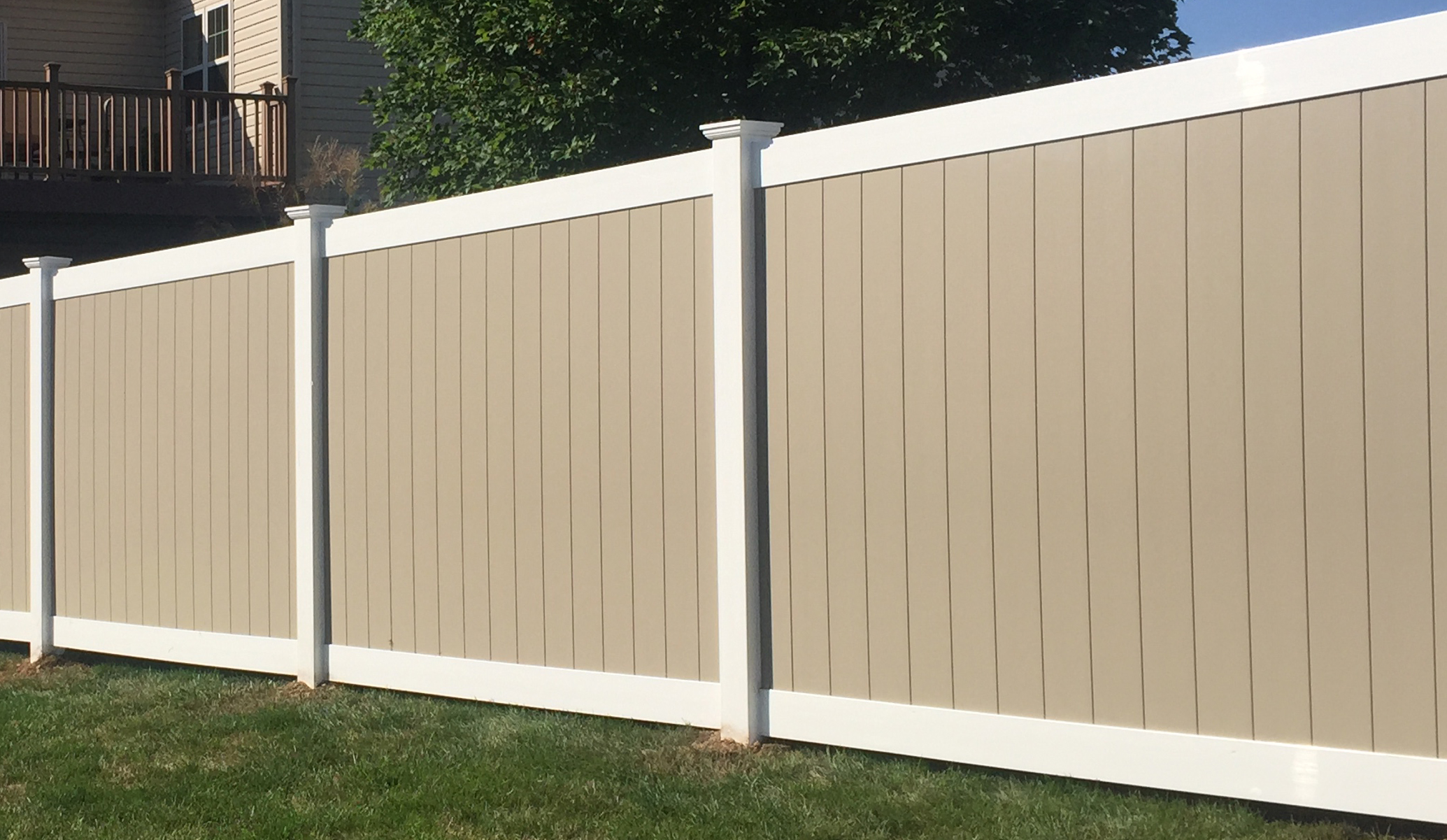 2022 Most Popular,
this is a 6 FT tall privacy Cost effective + This fence is also available in our Quick Ship program for DIY & contractors.
Let's Explore some Combinations:
Mix & Match to get your Custom Colour,

Let's Do this!
White & Tan ? or Maybe Black & Sequoia ??
Standard Vinyl Fence Color
Before we explore the world of bold, bright, vibrant vinyl fence color, we should say a thing or two about standard colors. They're widely available, and in some situations, they're the best choice. For instance you'll find basic colors like White, Black, Clay, Tan and Gray. These can be excellent options for privacy fences or other fencing in areas where you want a more sedate look. You can also combine them to create more complex patterns without going too bright – a dark brown fence with white posts and borders, for instance.
Brighter and Bolder
You're putting a fence around your own property, and that fence should reflect your personality and sense of style. It should be bold and bright, vibrant and statement-making. Today, there are many options that can help you achieve the aesthetic you want. For instance, you could decide you want to go with cream-colored panels, with bold, red posts and trim pieces.
On the other hand you could decide that you want to go with a rich, Dark Sequoia wood-grain to give your home a more exotic, luxurious look. You could go with a spring-like design with Weathered Aspen panels and Clay Trim, or you could go with bright Coastal Cedar fencing to add vibrancy and cheer to your yard. The choices are virtually limitless. Derkson Fencing offers as many as 20 different color choices, not counting combinations or texturing choices.
Check out our blog How to buy Vinyl Fence, Tips from the Pro
The most important consideration is not the Vinyl Fence Color or color combination that you choose, but the fencing manufacturer. Not all companies offer the same range of colors. So, while you will find that commercial grade vinyl is largely the same from one company to another, the aesthetics do differ, so your choice matters a great deal. Derkson Fencing is a company dedicated to working with all the top manufacturers that offer you the options you need to create a look that you'll love for a lifetime. Let one of our design Pros design a fence for you today.
Try Dark Walnut & Sequoia or Maybe Black & Dark Walnut
Fairmont accent in White & Slate Grey or simple privacy
White & Tan, Privacy or Accent Top, What's your style ??