Vinyl Ranch Rail Fences,stunning looks & curb appeal
Define your boundaries @ home or on your ranch with Vinyl Ranch Rail.
Our Vendors demand: the best compounds that are custom formulated so that it has the proper mix of the best virgin vinyl, titanium dioxide, UV inhibitors, and modifiers. We know how to make and sell consistent, quality vinyl ranch rail fence.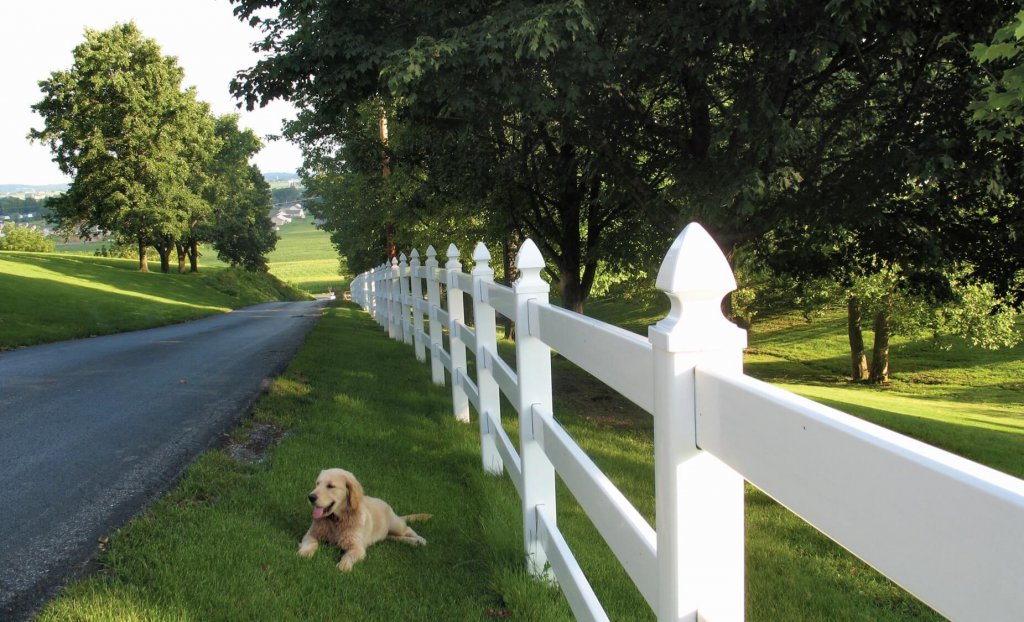 Define your acreage: with a variety of ranch rail systems that blend beautifully with any architectural style. Ask about our many decorative accessories that allow you to finish your space with a personal touch. Our products are thick enough to meet the structural requirements required for ranch rail fencing.
Use Ranch Rail to make accent fencing: it's really the perfect fence. Your Fence Your Way. What can we do in your yard? Try a colour or mix and match these.
Your Ranch or Farm will be the envyof all, define your space with Ranch Rail, Special offer 0%for 36 Equal Payments, on 1000ft or more only $489 Bi Weekly
Our Ranch Rail is available in 4 styles – 2-Rail, 3-Rail, 4 Rail, Crossbuck Rail. To create the style, simply pair our vinyl rail with the post style of your choice. We offer a single vinyl Ribbed 1.5x5.5 or 2" x 6" rail that works with all of our designs & routed posts.
All our Ranch Rail feature: Neighbor-friendly styles – same look on both sides, Paint-free low-maintenance, Simple installation, Resistance to yellowing, warping, splintering and rotting, Backed by industry-leading warranties
DIY ? use our QUICK SHIP program, click below to view, order, ship your products
YES! Ranch Rail comes in Black & Other colours: Black Ranch is typicaly 3-4 weeks lead time, Let's get the order in now, Your fence your way let's get to work.
Finance-it 0% over 12 Equal Payments, pay out anytime
it's that easy, DIY or install, GET FENCED!
You can be comfortable knowing that you are making the right choice and purchasing the highest quality ranch rail on the market when you choose Derkson Fence Supply to be your vinyl ranch rail supplier. Not only do we make sure we use the best material on the market, we also make sure it is structurally designed to work on your project.
WOW, RIGHT! Bufftech ranch 4 rail
The authentic look of painted wood fencing
Post & Rail fencing with CertaGrain® texture offers the authentic look of painted wood fencing with the low maintenance and proven performance of Bufftech's premium vinyl design.
3-Rail and 4-Rail styles available
Rail Size (White only): 1-1/2" x 5-1/2"
Rail Size (Arctic Blend, Brazilian Blend, Sierra Blend, Weathered Blend and White): 2" x 6"
Suitable for animal containment
colourLast® dark colour fade protection
Lifetime Limited Warranty with SureStart™ parts and labour protection
*2-rail style recommended for decorative purposes only.
Our products are thick enough to meet the structural requirements required for ranch rail fencing.
If you need help with your ranch rail project, call us today or fill in our contact form to be contacted promptly by one of our project consultants. We know ranch rail and we are excited to quote your small or large ranch rail project.