Post & collar install for vinyl fence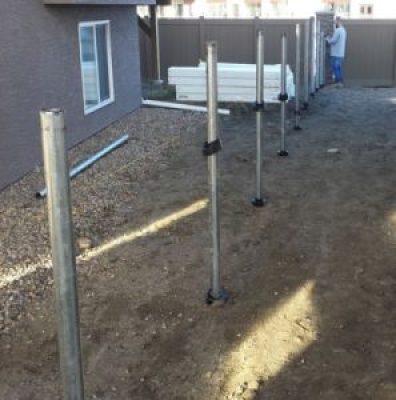 Post & collar install, We will come out & install your Pipe and collars for your fence install, its really that simple.
Basic service call fee: $195.00 + $24/Post
YES, we work with insurance companies, Get in touch today, lets do this.
This service cost is billed:$195 Serivce Call + $24/pipe install & setting of leveling collars + supplies
Should additional parts or labour time be needed: they will be billed at a standard industry rate, labour is billed at $95/Hr Flat Rate Service includes 1/Hr. Out of town service calls will be billed mileage at a Rate of $3.50/KM
Pipe & Collars Typical cost:If we are supplying standard 2-3/8" 8 FT 0.79 Wall Pipe average cost is $32/Ea. Collars to fit Run $5/Ea. 2 per pipe needed. costs will vary depending if posts are driven post or concrete set. Volume discount offer if full bundle purchase of 10% off pipe & collars.
Concrete Service: Dig & Concrete Pipe, $15 Per Bag of concrete average of 2 per hole, + $20 to dig hole Total of $50/hole if drilling and setting all pipe, we will calculate concrete based on truck delivery of $325/yard concrete,
Shop Supplies: All service work orders are billed 10% of the labour total for supplies such as screws, glues, plugs, rivets, shop towel, etc that may be used in the repair.
Basic Service call cost billed above covers: Employee wages, Tooling & Equipment (not including skid steer) Costs, fuel, Company Time, Vehicle expence,
Labour warranty: we will provide you with one year warranty on the work preformed, if approved repair method is approved ** parts are not included**
Parts Warranty: Typical Vinyl fence parts that are professionaly installed carry a 5 Year warranty against defects. However certin parts like polyvinly latches carry a lifetime warranty against defects